Today we had a busy start as we went to Heathrow at 8am to see one of my best friends pass through on her way to new Zealand. It was a bit bitter sweet as we had such a short time together but it was so worth it. Munchkin had a blast dashing about the terminals too!
Then it was on to my friend Amy's crafty coffee morning to make this card: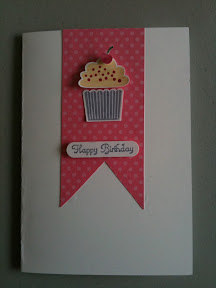 Originally designed by the super talented Jade, Amy had prepped this gorgeous creation for everyone to enjoy. As I haven't got the cupcake punch it was fun to play with it.
My friend Ruth was there and here she is with her creation:
Such fun and a great start to the weekend!