Some lovely friends of ours christened their little girl today. I made them this card: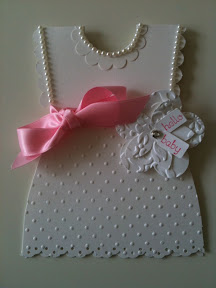 I drew the shape freehand on shimmery White card to make the skirt. The skirt part was then embossed and the edge punched with the eyelet border punch. The sleeves were added after and the joints hidden with pearls. Such a simple design but I was thrilled with the final outcome.
The christening was held at this pretty church:
And here us gorgeous baby Ellie:
She was good as gold throughout the ceremony and then had some yummy milk with her Daddy:
We were even treated to sone lunch, including thus fabulous cake:
Such a fun family day out and great up catch up with our friends too.