I was in a craft shop yesterday when I saw a soap making display. I couldn't resist having a go when I saw a starter kit on sale!
The kit has soap base, fragrance, moulds and flower/herbs that are dried.
Here is my soap after pouring it:
It looked a bit like marmalade!
It set very quickly and a couple of hours later could pop them out of the moulds:
Then I thought I should pretty them up: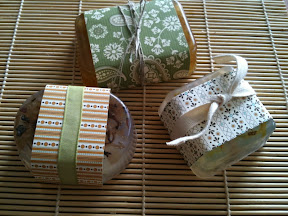 I used Spice Cake papers and ribbon etc to decorate them. I'm really pleased with the result and may investigate making more!!