Ok, so the guilt has got too much... I need to blog. If I leave it any longer I might forget how to post!
It's been a mad time. Munchkin turned 2, DH had tonsilitis, parties, Peppa Pig World and major infected finger took over. But I'm back with you now.
Here is a coffee cup I customised:
You can buy them in a famous Seattle originated coffee shop and they come apart to allow you to decorate them. I used strips of patterned paper and then glued and sewed them together to make a sleeve that can be slipped in. The great thing is I can make one for all different days/outfits/drinks!!!
Now for a Munchkin update. As I mentioned our little angel has turned TWO!
This is her at the park yesterday:
Here she is playing with her lil friend: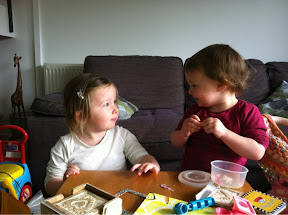 Aren't they adorable together? Surprisingly they get along quite well and it is hilarious when they chat to each other!