Hello! Scrapbook club last Tuesday has been postponed til next Tuesday (11th) at 7.30pm at my house, so if you thought you'd missed it, you haven't!
Here is a peek of the layout we're making: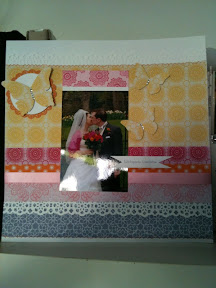 It has real sewing on it, as well as gorgeous papers, lace ribbon made by one of the new border punches and some pretty butterflies.
If you'd like to come just contact me so I can ensure I have enough materials for the class!
Today we've been shivering with cold as it's suddenly chilly. The perfect excuse for wandering around the lovely festive displays at the garden centre!