This beauty was designed by my lovely friend Fiona: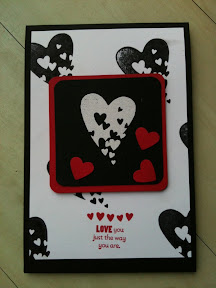 The red really pops on this card. There is a black base, White mat stamped with black ink and a red sentiment. The central heart image was embossed with quite embossing powder onto black and decorated with small red hearts. If I was making this again I'd probably use red glitter card for extra punch.
Tried taking Munchkin to the cinema but misjudged the film horribly. Turns out Tintin was a tad advanced (scary and too complex). Still the treats to eat went down a storm and we had such fun looking round the shops and chatting.