Morning all. I meant to blog this yesterday but it was such a hectic day that it just didn't happen!
My sister in law tied the knot at an intimate ceremony yesterday
morning! To celebrate I made them this card:
It's copied from one by Jenni Pauli the number 1 German demonstrator. Although I did change the stamp sets used and also changed the colours to Pool Party instead of pink as that is one of my SIL's favourite colours.
Munchkin had a cute miniature bouquet to match the brides, full of spring flowers: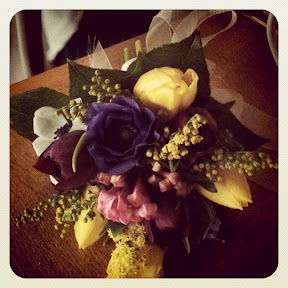 She was very over excited and dashed about like a whirlwind at the (literal) wedding breakfast!
Here's a snap of the happy couple:
They've jetted off on honeymoon to New Zealand now, and we wish them lots of happiness together!!!