Lately I seem to be behind with everything, including birthday wishes! Here is a card I made for my birthday twin, Amy, that she should have had on her birthday, not a week later.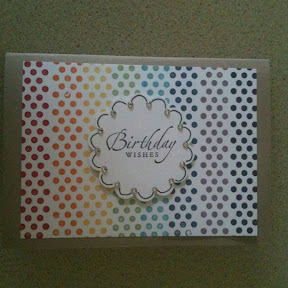 The rainbows were made using different ink pads and the dotty border stamp from the Spring Mini catalogue. Such a useful stamp for backgrounds, Borders etc.
The centre was punched out using the new larger scalloped circle punch. I doodled around it and added jewels for some sparkle.
Here's a couple of Munchkin pictures back from our trip to France last month.
Yes yes dairy. I know. Bad mummy. But she DID enjoy herself so much!!!!