Happy Easter & Springtime everyone!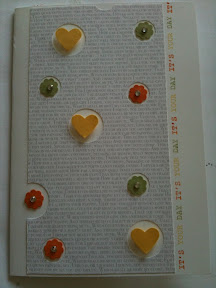 This card was inspired by one I saw on Jenni Pauli's blog a while back. I love her pared back style! The colours are Pear Pizzazz, Daffodil Delight and Pumpkin Pie. Nice springy colours! Using the 3/4" and 1" circle punches To make a random pattern and then I filled it with hearts and flowers.
The sentiment was from the now retired saleabration sets but you could use any sentiments you like really. I used the same coloured inks as the embellishments I'd made so it brought a coordinated look.
We've just returned from a week in Mallorca which was lovely. It was heavenly to have the three of us together with nothing else to worry about. munchkin made lots of friends and thoroughly enjoyed the mini disco each evening. Now we are back to reality and it's time to get excited about this months promotion! If you spend £45 on products during April you can choose a free set of papers from a selected range (RRP £9.95!). It's a great deal so let me know if you'd like anything as I'd be happy to add it to my regular weekly orders.