Today we are going to celebrate my cousins daughters 4th birthday. It only seems like five minutes ago that she was born and soon she'll be off to school!
Here's the card I made from her, highly influenced by
this
one by Kirsty Brown.
I added some bits and took away others. If you notice, those buttons are not currently available. It's a little sneak peek of the new buttons in the Summer mini catalogue that will be available from 1st May. Aren't they cute?
N.B. If you'd like a copy of the summer mini catalogue contact me and I'll pop one to you!
Talking of cute, Munchkin appears to be Massively into makeup. Anyone who knows me, knows I'm not hugely into make up, so she must have got this from her Aunty Pecker!
Red lips, green eyeshadow and powder. Lovely!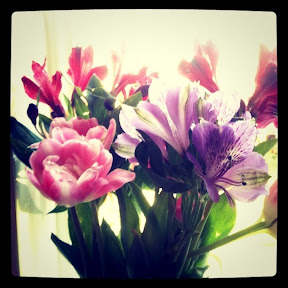 These are some gorgeous flowers given to me by my lovely friend Ms La Fey. Thank you!!!