Salut all! Today i have a card that is a variation on a theme from the one in my last post:
(edit: see, now it's the right way up!)
This time it's using Woodland Walk papers and a sweet little stamp (the name of the set is currently eluding me - do you know what it's called?). There's a touch of Early Espresso taffeta ribbon and some Dot, Dot, Dot background stamp on the Crumb cake base - voilà!!
As for our holiday, its great. The weathers been testing our patience by being "challenging" first thing but it's so hot and sunny later on that you barely remember a short time later!
Yesterday it was a Bank holiday in France so we had an extra day with my Aunt & Uncle who are our hosts so we went carbooting. This is Munchkin eating her hotdog in a baguette: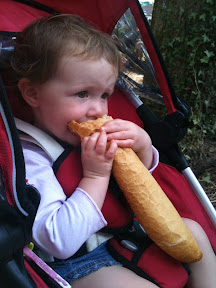 Here are our hosts:
Here are our travelling companions:
Anyhoooo see you again soon!!