So it's the final day of my 12 Days of Christmas festive posts. I hope you've found them useful bf inspirational. My final project is this mini handbag:
Just the right size for some slim choccies! It was based on this swap I received from a French Demonstrator (sadly I didn't catch her name):
You'll have to use your imagination to turn the bag round!
It's a very sweet project that needs Minimal supplies:
(I missed off the
Window punch
!)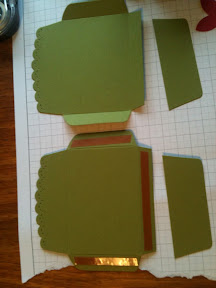 Cut 2
envelopes
out of
Lucky Limeade card
on the
big shot
and trim enough off the bottom flap so that the remaining is equal to the side flaps. Add
red tape
.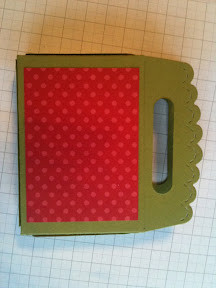 Punch the handles using the
Window Punch
and add a piece of patterned paper 5cm x 7cm. I used Real Red paper from the
Brights Paper Stack
.
Next make a sentiment. I used Tags Til Christmas with
Lucky Limeade, Real Red & Early Espresso markers
. It's stamped onto
Very Vanilla card
and then punched out with the
Scalloped Square punch
.
Next prepare your embellishments. Use the
5-petal flower punch
and cut 1x Lucky Limeade and 3x Real Red.
Cut off a pair of green petals to make the leaves.
Layer the red flowers to make a poinsettia and finish with
Rhinestones
.
Voilà!
Fill with thin chocs/money and put on the table or in the tree!!
I'll be back tomorrow with some (not necessarily Christmas) projects.
Don't forget you get 10% off all products in bold during these last 13 posts. I'll be placing an order on Tuesday 13th December. Let me know if you'd like to add something!