Happy Monday! Today I'm excited to share not just a super quick and simple gift idea but
also
a preview!
Did you hear the exciting news that we're getting a spring mini catalogue that launches in January?! Its very exciting as there are lots of new co-ordinating stamps, papers, punches and embellishments.
With that in mind I'll show you today's gift idea: a decorated candle. All you need on addriin to basics such as stamps ad ink are a candle and some tissue paper.
I used white tissue paper and stamped with
Lucky Limeade ink
using the swirl from
Baroque Motifs
. I then used the Rock'n'Roll technique to make the large flower image two-toned. For this I used a set from the forthcoming mini catalogue called Fruit & Flowers. Are they cute?
I used
Pool party
for the lighter blue and then
Island indigo
for contrast. The smaller flowers are also the Fruit & Flowers set.
You then need to trim the tissue paper to a size that will fit around the candle.
Now for the fun part! Get your heat gun and gently heat the surface of the candle with the tissue paper laying on top. You can see how the tissue paper just sticks here:
Once your worked your way around the whole candle it should look like this:
If you heat the candle too much the wax runs and the surface loses it's smoothness so be cautious!
Once it was cooled I popped it Ito a
large cello bag
, tied a piece of
ruffled ribbon
(in Pool party) to close it and made a tag using the set,
Perfect punches
.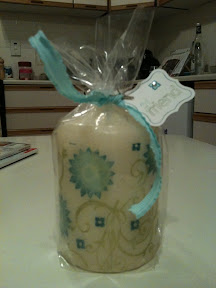 If you're short on time but want to make handmade gifts this is ideal. You could easily produce a whole batch in less than an hour.
Don't forget I'm offering a 10% discount off all products used in the 12 Days of Christmas series until the 13th December. I'm sending an order on the 14th so you have some thinking time.
See you tomorrow for more festive inspiration.