Morning all! Thanks to those who responded to my One Day Contest. I got lots of bookings and am eagerly waiting to see if we hit our worldwide target! If you wanted to book a private class but didn't make the deadline I still have some dates free, particularly in March.
Onto today's festive idea: Reindeer Food. A fantastic gift for younger children as they can get excited about that on Christmas Eve.
This is similar to the Snowman poo but the bag contains oats & glitter. Obviously it's probably best not to sprinkle regular glitter outdoors, but you could always sprinkle the mixture on a fireplace instead.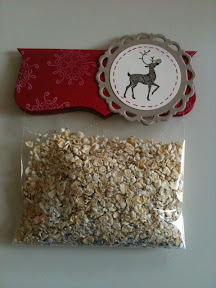 The reindeer image is from
Winter Post
and is finished with a rhinestone, which is tricky to see in the photo.
The
Top Note
was cut from
Real Red card
and stamped on
White craft ink
with snowflakes from
serene snowflakes
.
Don't they look sweet all lined up? On the back I added a note saying the contents are not edible and a little poem:
"
Sprinkle on the lawn at night
The moon will make it sparkle bright
As Santa's reindeer fly and roam
This will guide them to your home.
"
You can find the poem all over the Internet so I don't know who came up with it but it's really cute.
All products in
bold
are 10% off until 13th December if you order through me.
Also, check out my new class schedule
here
.
See you tomorrow for Day 8.