In all the excitement of Christmas I can forget the basics. Like remembering to wrap the gifts I took so long choosing. However this year I've been inspired to start a little earlier as I saw a great idea on Kirstie's Christmas show on C4.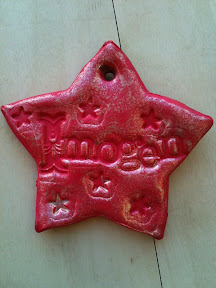 You take Fimo modelling clay and use cookie cutters to make festive shapes then stamp messages on them.
The one above is for my Munchkin. I used the Broadsheet Alphabet set for the 'I', Just Perfect alphabet for the rest of her name and then the star image in Pennant Parade to decorate.
You then bake the clay according to the instructions on the packet. (Don't forget to pierce a hole at the top) When they cool I sponged over some Champagne paint for extra sparkle.
I'm going to add a bit of ribbon to attach it to a gift. The tag can then be used as a tree decoration so it's a double gift!
Here's another I made, this time for my Dad:
Speaking of gifts I was given a gift from a lovely friend, Lesley yesterday!
The bag itself is gorgeous, isn't it?
Inside was this:
Gingerbread cookie mix and a fab cutter! So thanks very much to Lesley. As soon as our house stops being full of sick people I'll be cooking them up!
Here's a little pic of Munchkin for my father-in-law. A momentary lapse of her illness. She's back to being a bit tired but hey, it's not like we've got much else to do, is it?! Poor lamb.