Good morning! Today I have a card that features a technique I read about in the monthly magazine all UK demonstrators are sent, Impressions.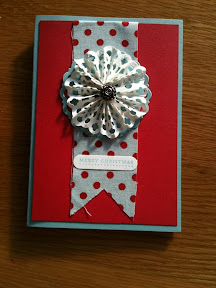 To make the snowflake you punch a piece of Whisper White using the lace border punch. I used the width of A4. That is then covered in Dazzling Diamonds and scored every 5mm. The card is folded along the score lines in a zigzag fashion and the short ends stuck together.
When this is pushed down you get a circle! This was layered on a scalloped circle with an antique brad and a piece of Candy Cane fabric cut into a flag.
The base is Baja breeze with a layer of Real Red cardstock. The sentiment is from Teeny Tiny Wishes and was punched with the Word Window punch.
Hope you like the card and if you'd like to know more about becoming a Demonstrator I'd love to hear from you!
Munchkin appears to be back on full form today. She's still taking advantage of the fizzy pop that was made available yesterday when she was sick and she even found a chocolate somewhere and guzzled that too! Fingers crossed she keeps on this way and we manage to avoid catching it ourselves!!