Today I have another calendar-based idea. This time it's one to hang on the wall: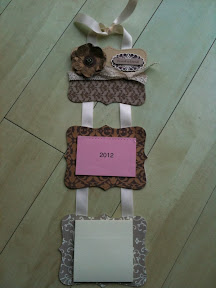 I saw a version of this on Pinterest and decided to make my own using
Mocha Morning speciality papers
. They are lush!
It's very simple to make. Just cute three
Top Notes
and decorate with patterned paper etc. These can then be stuck using
Red Tape
to some lovely
satin ribbon
. To finish simply glue a mini calendar (from a stationary shop) and half a pack of Post-It notes - a whole pack is a bit heavy. Voilà!
Remember all items in
bold
are 10% off until the 13th December!
Yesterday we got festive and iced some biscuits for our Christmas tree! Munchkin really enjoyed herself!!
But it took a lot of concentration!!!
The result was worth it...